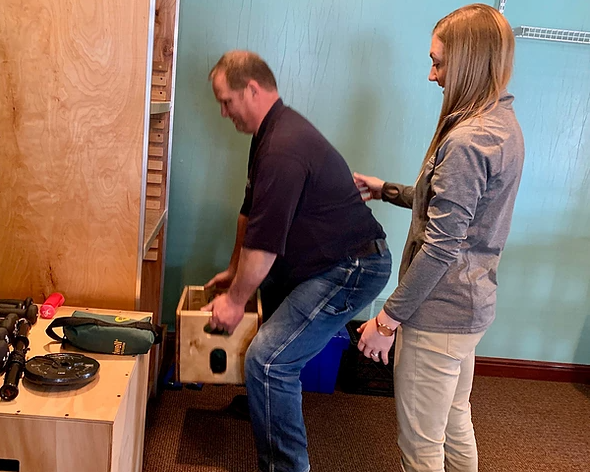 After experiencing a low back injury, I had a pretty painful muscle strain and wasn't sure if I'd be able to do my work or cut wood at home with the chainsaw. I did 12 weeks of Worker's Compensation rehabilitation with a physical therapy clinic that was a waste of time. It was bare bones generic therapy. They had me ride the bike and practice stretches, and there was no progress. My doctor made a specific recommendation to Worker's Comp so I could go to Balanced Fitness & Health. I'm so glad that worked out.
The moment I started getting therapy from Caley at Balanced Fitness & Health, I started making progress. Caley has a very fine-tuned approach to therapy. I told her my work duties and what I do at home. She gave me exercises to strengthen me for specific tasks and incorporated massage and hands-on stretching to loosen me up before I did my exercises each session. She pushed me during our workouts and sent me home with specific exercises and stretches to try each week.
I went in wondering if I was going to be able to do my job again. Now, my core is stronger than it has been in years, and I am back at work with most of my mobility and flexibility back I'm thankful to Caley, who is very good at her job, personable, and knowledgeable. I think my recuperation would have happened much faster if I had been able to go to Balanced Fitness & Health in the first place.
-Vince S., Employee, City of Cedar Rapids